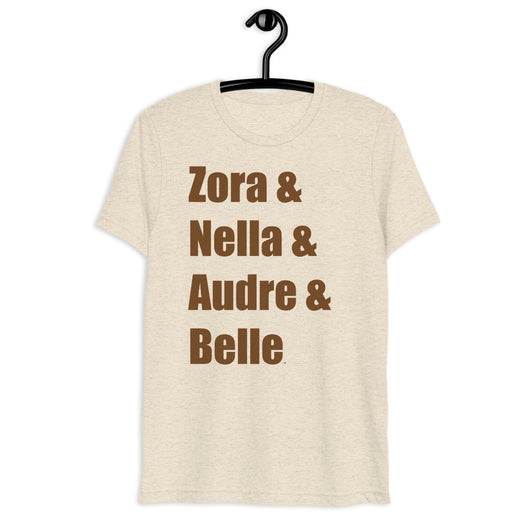 Little Known Black Librarians Unisex Tee
Regular price $25.00 Sale
This t-shirt honors trailblazing Black women librarians, from Zora Neale Hurston (yes, she worked as a librarian!), to Nella Larsen, to Audre Lorde, and Belle da Costa Greene.
This shirt features:

• 50% polyester, 25% combed ring-spun cotton, 25% rayon
• Fabric weight: 3.4 oz/yd² (115.3 g/m²)
• Pre-shrunk for extra durability
• 40 singles
• Regular fit
• Side-seamed construction
Size guide
| | | | | | | | |
| --- | --- | --- | --- | --- | --- | --- | --- |
|   | XS | S | M | L | XL | 2XL | 3XL |
| Length (inches) | 27 | 28 | 29 | 30 | 31 | 32 | 33 |
| Width (inches) | 16 ½ | 18 | 20 | 22 | 24 | 26 | 28 |
Zora Neale Hurston
Many know Eatonville Florida native, anthropologist, folklorist and acclaimed author Zora Neale Hurston for works like Their Eyes Were Watching God, Of Mules and Men, Dust Tracks on a Road, Jonah's Gourd Vine, and the recently discovered Barracoon : the story of the last "black cargo. Few realize that Hurston briefly worked as a librarian for the now-defunct Pan Am Airlines. While living in, she was employed as a Librarian in the company's Technical Library on Patrick Air Force Base. Her supervisor thought she was "too well educated for the job." She was eventually let go in May 1957, reportedly she suspected because she reported another employee's misconduct. Hurston wrote a letter of protest to VP Richard Nixon, claiming a violation of the Equal Employment Practices Act.
Nella Larsen
Harlem Renaissance author Nella Larsen is perhaps best known for her acclaimed novels, Passing and Quicksand, but she also had two other careers that are worth noting. After training a the Lincoln Hospital and Nursing Home in New York City, she worked at the hospital on Tuskegee University's campus for a little over a year, beginning in 1915. After a marriage that ended in divorce, she began volunteering with Ernestine Rose at the New York Public Library. Larsen was the first Black person to graduate from the NYPL library school. She worked at NYPL until October 1925, when she left to focus on her writing.
Audre Lorde
Audre Lorde was a well-respected Black lesbian author. Her career as a librarian has not received much attention. She attended library school at Columbia University, where she graduated in 1961. She later worked as a public librarian in Mount Vernon, NY.
Belle da Costa Greene
Belle da Costa Greene was the personal librarian to industrialist, J.P. Morgan. Hired in 1905, she would handle millions of dollars of transactions on his behalf, as she acquired books and artwork. Greene would go on to serve as the director of the Morgan Library. She famously quipped, "Just because I am a librarian doesn't mean I have to dress like one!"